The hotel is before your eyes when you disembark from the ferry from Miyajimaguchi. The perfect location as a base for Miyajima sightseeing.
Spend a special weekend at your home-from-home in the spiritually powerful island of Miyajima. Forty minutes' journey from Hiroshima Station, and one minute's walk from Miyajima Wharf.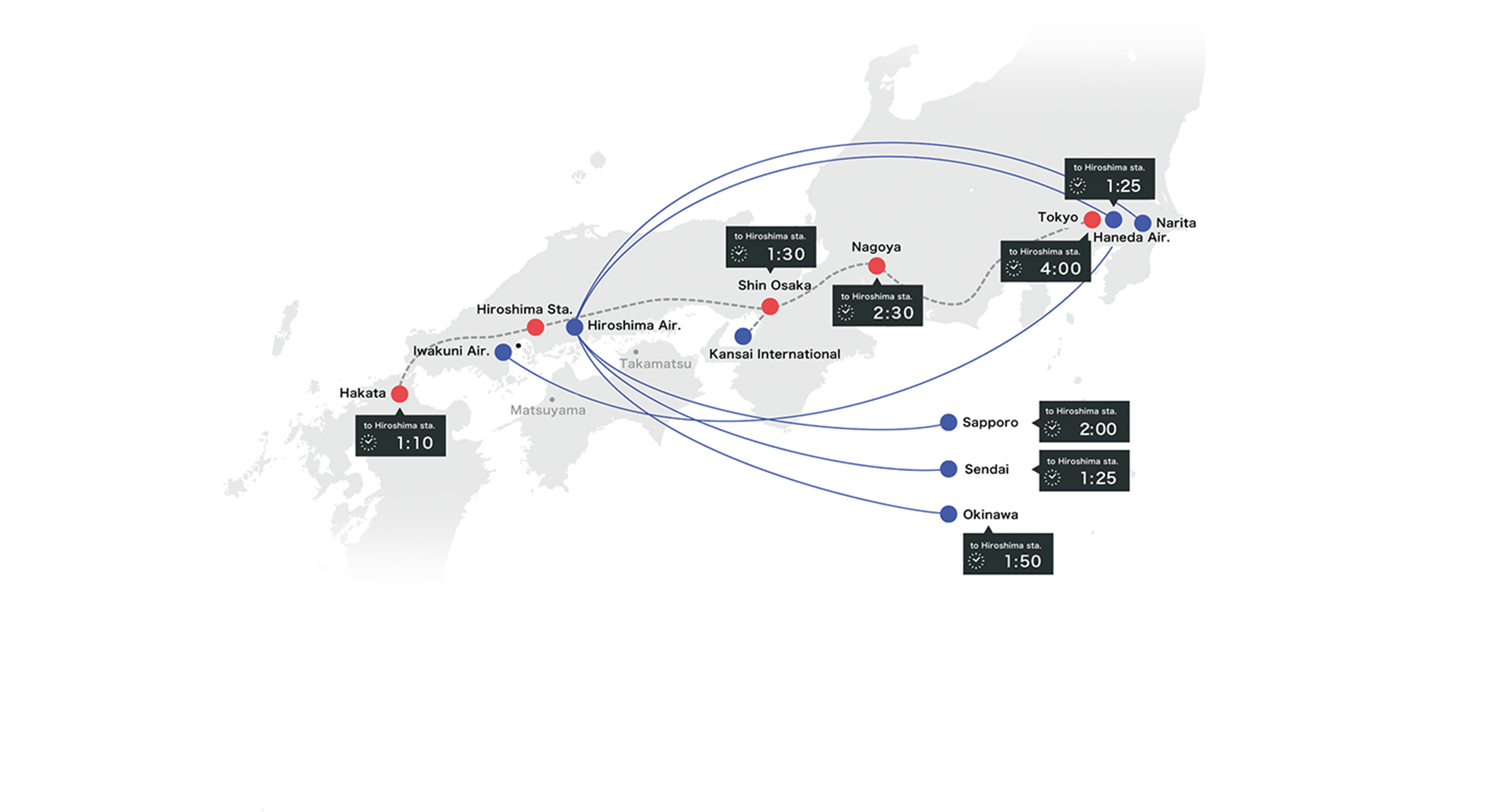 Access by Shinkansen (Bullet Train) and Conventional Rail Lines
The Shinkansen (Bullet Train) stop is JR Hiroshima Station.
Inside Hiroshima Station: From Platform 1, take Sanyo Main Line, (down line bound for Iwakuni), depart at JR Miyajimaguchi Station
Hiroshima Station South Exit: Take Hiroshima Electric Railway (tram line), (bound for Miyajima), depart at Miyajimaguchi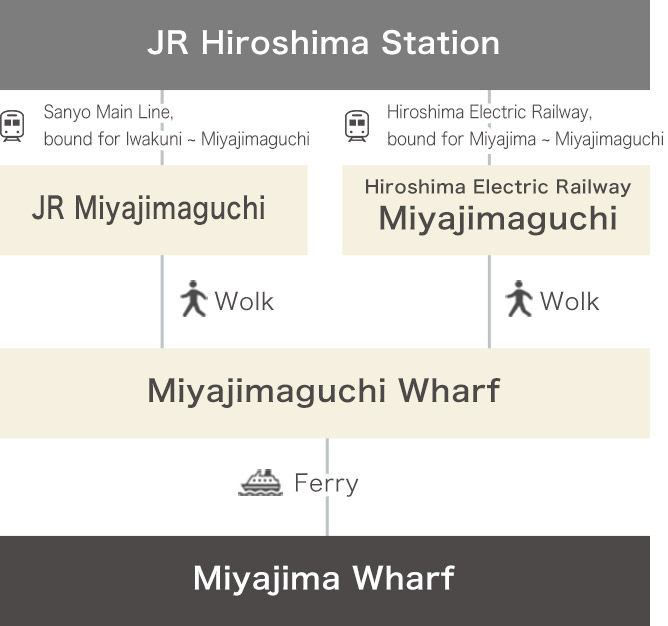 Access by Plane
From Hiroshima Airport
Take the highway bus from the airport (bound for Hiroshima Station or Bus Center).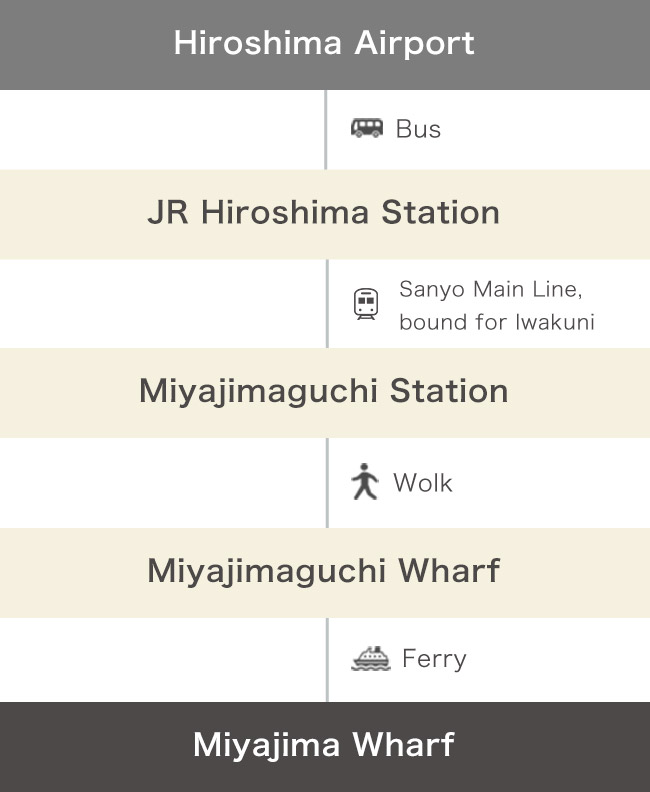 From Iwakuni Kintaikyo Airport
Take the airport connection bus to JR Iwakuni Station.
From JR Iwakuni Station, take the Sanyo Main Line bound for Hiroshima, and depart at JR Miyajimaguchi Station.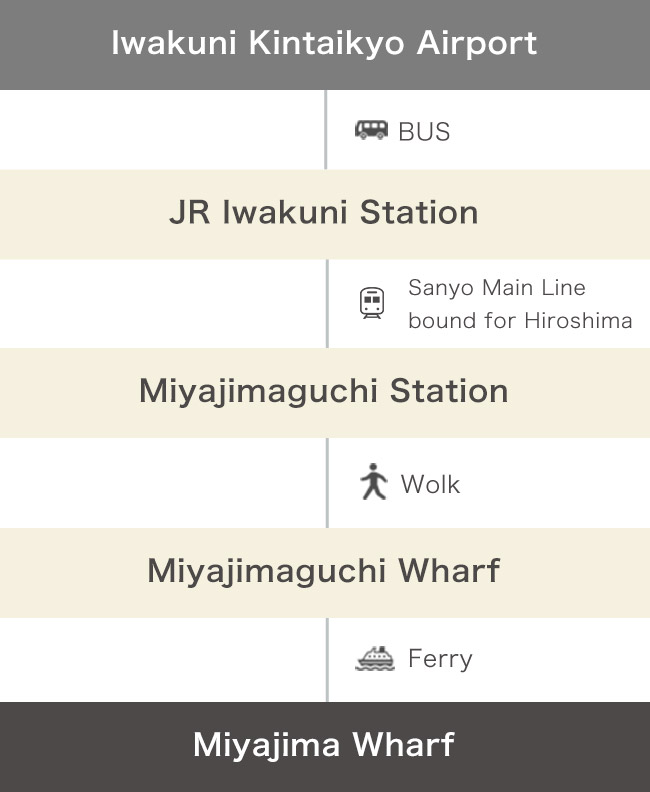 By Car or Motorbike
San'yo Expressway Exit
Guests arriving from Kansai (Hatsukaichi I.C), Guests arriving from Kyushu (Ono I.C)
Expressway Exit --- National Route 2 ~ Miyajimaguchi, Miyajimaguchi Wharf ~ Ferry ~ Miyajima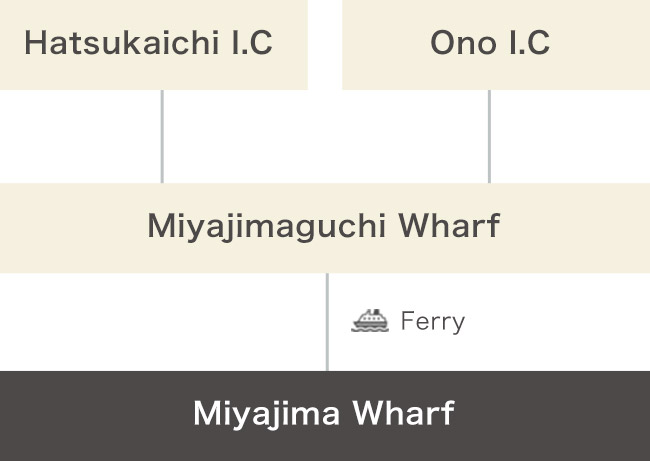 *Precautions when Arriving by Car
Roads on the island of Miyajima are extremely narrow.
Sightseeing spots do not have parking areas.
There is only one gasoline station. (Closes irregularly)
Some roads are subject to time-dependent traffic restrictions.
On the island of Miyajima, as there are no parking areas at the main sightseeing spots, you will need to leave your car at the hotel's parking area and sightsee on foot. Guests who are carrying heavy luggage or have difficulty walking are welcome to use the hotel's parking area. If you are arriving by car, please contact the hotel when you load your car onto the ferry (Tel: 0829-44-1180).
*When Loading Your Car onto the Ferry
Transport fees will be charged when you load you car onto the ferry from Miyajimaguchi Wharf.
One-way trip (Fare for driver and car transport fee combined):
Under 3m・・・・・790 yen
3m~under 4m・・・1,210 yen
4m~under 5m・・・1,690 yen
5m~under 6m・・・2,210 yen
6m~under 7m・・・2,520 yen
*Prices above show one-way trip fares (fare for driver and car transport fee combined)
*When traveling with other passengers, separate one-way trip fares will be required (180 yen per adult, 90 yen per child)
*Loading your car onto the ferry will be slightly more expensive than leaving it in the charged parking area on the mainland wharf.
1165 Miyajimacho, Hatsukaichi, Hiroshima Prefecture 739-0505